Home > Services > 3-D Laser Surveying
3-D Laser Surveying
VIBRONICS, INC. uses both 2-D and 3-D laser surveying systems. We utilize 3-D auto scanning equipment. We can provide on-site profiling support to determine maximum, minimum, and average face burden dimensions. We can determine face burdens either prior to the drilling of blast holes or after.
We have the capability to locate blast hole collars based upon your face burden criteria. We can provide your surveyors with mine-specific blast hole collar coordinates. These coordinates can also be incorporated into your blast hole GPS system. Our TLC® WINPROF software is very powerful and is used by major explosives' companies and suppliers. We have been providing our clients with profiling data since 1996.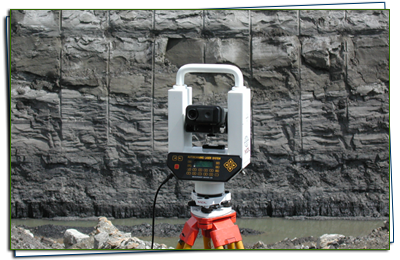 See our 3-D Laser Surveying demonstration (714 KB) for the capabilities of the software VIBRONICS uses for our clients.
Contact Us for additional details on our laser surveying.